The two leopards standard (1426-1469)


In 1426 the Duke of Bedford, regent for and uncle of the King of England Henry VI, institutes a shield for the Normandy court of justice with two leopards surmounted by a Fleur de Lys, since in 1432 the seal of the King's Council sitting in Rouen appears as a shield with two leopards above a parterre of fleur de Lys.
In 1432, Henry VI, King of England and France, founded various faculties which went to form the University of Caen and granted them a seal with two leopards.
In 1450, Normandy became French again. In 1465, Charles, brother of King of France Louis XI, was granted the Duchy of Normandy. His standard bore just two leopards.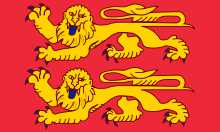 Two-leopard standard